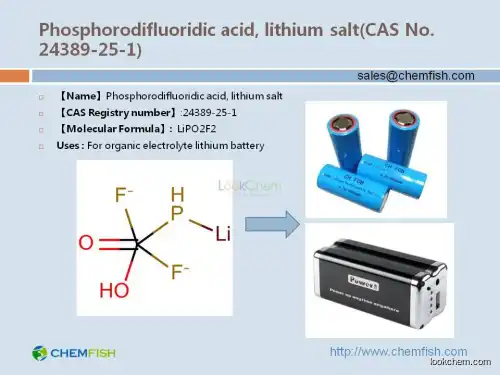 Keywords
LiPO2F2
Phosphorodifluoridic acid, lithium salt(CAS No. 24389-25-1) supplier
bulk production Phosphorodifluoridic acid, lithium salt(CAS No. 24389-25-1)
Quick Details
ProName: LiPO2F2 Phosphorodifluoridic acid, lit...
CasNo: 24389-25-1
Molecular Formula: LiPO2F2
Appearance: power
Application: For organic electrolyte lithium batter...
DeliveryTime: prompt
PackAge: steel drum
Port: any port of China
ProductionCapacity: 10 Metric Ton/Year
Purity: 99%
Storage: 2-8C
LimitNum: 1 Kilogram
Superiority
Chemfish co.,Ltd a comprehensive enterprise, Located in High-Tech Science Park,Changsha,China.
With its own R&D center and more than 10000㎡manufacturing plant . Chemfish owns 40 reactors from 1000L to 8000L. With complete auxiliary equipment as: Fractionating columns, Boilers, Refrigeration unit, sewage treatment. we provide from a test to large-scale production for customers,and have analytical instruments such as GC,HPLC ,NMR and so on.
Our main product :
Polymer Additive , Electrolyte Additive, Intermediates, Customs Synthesis

It offers a large variety of performance enhancing additives specifically for the paints and coatings industry, with solutions for all major coatings segments such as Architectural, Protective & Marine, Transportation, Wood & Furniture, Industrial and Packaging, and also for printing inks.
Chemfish keep researching and developing the most up-to-date materials to meet the market demands . we warmly welcome the customs synthesis .
Details
Lithium difluorophosphate (LiPO2F2) was used as an electrolyte additive to promote the low temperature performance of LiNi0.5Co0.2Mn0.3O2/graphite cells. The impact of LiPO2F2 on the solid electrolyte interface (SEI) film-formation on electrodes was demonstrated by various electrochemical methods and microscopy techniques, such as transmission electron microscopy (TEM), scanning electron microscope (SEM) as well as X-ray photoelectron spectroscopy (XPS), in the pouch cells and half cells. The results showed that the cells containing 1% LiPO2F2 performed 71.9% (−20 °C) and 57.93% (−30 °C) of initial capacity, while the cells without LiPO2F2 discharged only 49.41% and 9.6% of initial capacity under the same condition. In addition, the enhancement of cyclic performance at 0 °C was attributed to a conductive and stable SEI film formed on the graphite by the sacrifice of LiPO2F2, which led to a low impedance and richer content of LiF and Li2CO3 in SEI components, as depicted in XPS.
Chemfish has strong advantage to provide LiPO2F2 ,please feel free contact us at sales@chemfish.com